PRODUCTION
Whether your event is in-person, virtual, or a hybrid combination, FNTECH is primed to provide expert production for your entire show. With "tech" in the name, it's no wonder we utilize the very latest technologies to engage your audience.
For in-person events, no event is too small for expert attention and no event is too complex to confound our team of experienced pros. Our team has seen, done, and in many cases, developed it all. We have two large warehouses in California and own most of the gear needed for every show. This allows us to be ultimately flexible with our time and investments. Our cutting-edge wood and metal shop in SoCal can support any design we can imagine. We're also happy to store your materials and set pieces when needed.
For virtual events, our full suite of FNsoftware, which feeds our FNvirtual event platform, has been developed with the most current open source programming in the industry. Our FNstudios produce broadcast-quality recordings with tangible or virtual sets.
Stream 1 or 1001 sessions. Showcase scores of sponsors in unique ways. Provide audience interaction, media meetups, and gaming on the fly. We can do it all. Plus, our in-house virtual lab allows us to build and test engaging new environments with a few mouse clicks. And we're always looking for new and more efficient ways to move the needle.
Not sure where to start? No problem! We're experts at developing production plans to fit your needs. We've handled huge conferences with thousands in attendance; more intimate gatherings with highly-curated content, all-virtual events with loads of digital spaces and sessions … and everything in-between.
EVENT MANAGEMENT
Planning, organizing, and conducting an event—no matter the size or format—can be daunting. At FNTECH, our experienced event management team will work closely with you to identify and ensure each element of your project is strategically orchestrated, deadlines are achievable, staffing makes sense, and budgets are met. The cross-trained EM team can expertly guide your attendees, sponsors, speakers, and partners ensuring they receive the instruction and support they need.
Well versed in our entire FNsoftware suite, which powers both in-person and virtual events, FNTECH event managers can support a single area—like registration or sponsor services—or collaborate with you on your entire project.
From initial concepts through the successful completion of your event, our team will be an extension of yours, freeing up your valuable time and ensuring even the smallest details are addressed.
CREATIVE DESIGN
Your messaging and event goals drive our design in all areas. We believe form and function must always work in harmony. To get there, we're exceptionally limber.
We're delighted to collaborate with your internal design team or agency, or start from scratch, imagineering something new and extraordinary from the ground up. Our creative team will get to know your brand essence and ethos, and make inventive and strategic design suggestions that support your objectives across all platforms. We'll consider the tangibles, like sights and sounds, and the intangibles, like the thoughts and feelings, to enhance your attendees' overall event experience.
Whether your event is in-person or virtual, our creativity has no bounds.
On the logistics front, we leave nothing to chance. We listen carefully to your needs, then meticulously plan, document, and track every asset using a series of well-tested internal systems and tools. Our highest priority is ensuring your brand is on point at every point, and your audience connects with your messaging on a visceral level.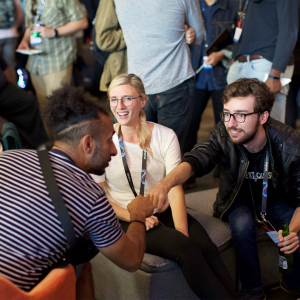 IN-PERSON EVENTS
Expertly produced in-person conferences, conventions, trade shows, hackathons, road shows, educational seminars, and more.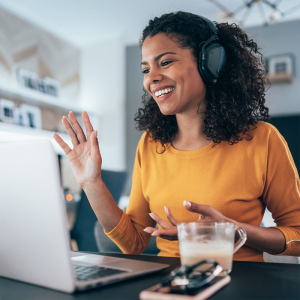 VIRTUAL EVENTS
Branded online events in virtual environments with multi-session webcasts, virtual expo halls, demos, networking, and gamification.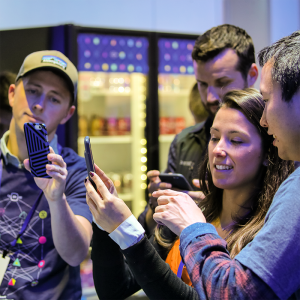 HYBRID EVENTS
Best of both worlds, combining a in-person event at a physical location with a live virtual component for remote attendees.